IMBA | TALKS
We are happy to present:
Digital Marketing and How to do it Right!
The event is May 23rd at 19:00-20:30 in Building #504 at the Auditorium on the main level.
Speakers:
Kalman Labovitz - CEO and Founder
Lunteer
"Online Marketing/PPC/SEO/Social"
Yoni Matz - Marketing Consultant
Penguin Strategies
"Aligning Sales & Marketing"
Sarah Fedida - Marketing Manager
MySocialPro
"It's all about testing & storytelling"
Q&A and light refreshments will be served.
* If you have a car and want to park on campus please contact us and send the car plate #
** You can also visit us in room #114 outside of event hours. We have a wonderful campus to check out.
If you have questions, contact us today!
Cindy Sinvani
03-5317914
Bldg 504 Room 114
R.S.V.P. to imba@mail.biu.ac.il
https://www.facebook.com/events/339449923247434/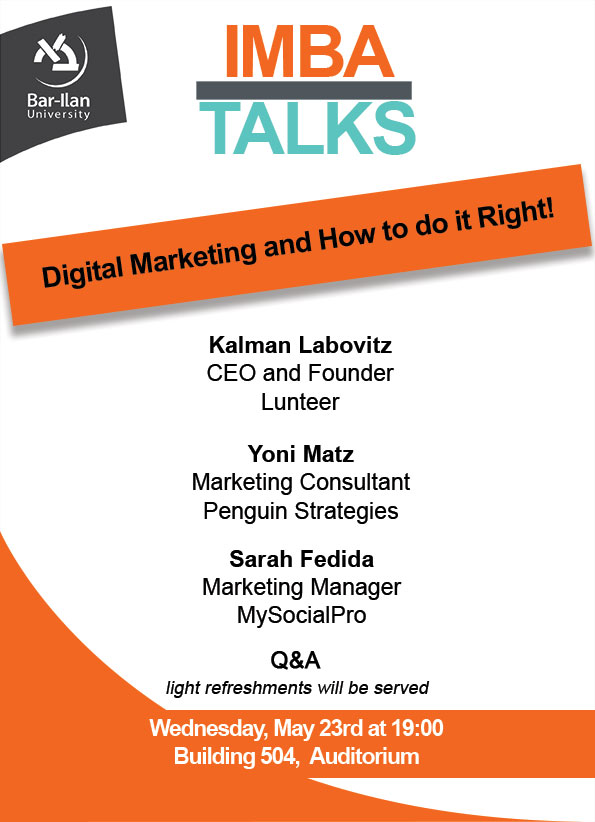 Past Event:

Job Hunting in Israel and How to do it Right!

Speakers:

Richard Binstock - Director and Senior Recruiter
Israel Executive Recruitment

Joey Wise - Head of Investor Services
Tzur Management

Chelsea Fang - Consultant
Deloitte Israel
 
https://www.facebook.com/events/184887602146031/